Extend Vietnam visa quickly within only 24 hours, 1-3 days working day. Door-to-door delivery no matter the distance. Simple procedures and the lowest fee. We specialize in emergency Vietnam visa extension services and overstay visas (for days, weeks, months, or years). VISANGON helps you to stabilize your job and continue living and studying legally in Vietnam.
There are three viable options for you to pay choose:
Express visa extension: Within 24 hours of receiving your application, we will prioritize fast processing and return the results on the same day.
Emergency visa extension: 1-2 working days to receive the results.
Quick visa extension: 4-7 working days for visa extension results.
For assistance, you can contact our offices wherever you live in Vietnam.
Visa extension time
1 month or 3 months for extension or renewal of Vietnam visa exemption.
3 months or 6 months for extension or renewal TT, travel, business visa.
1-year multiple visa extension.
2 years or 5 years for TRC
3 months, 6 months for 5 years visa exemption.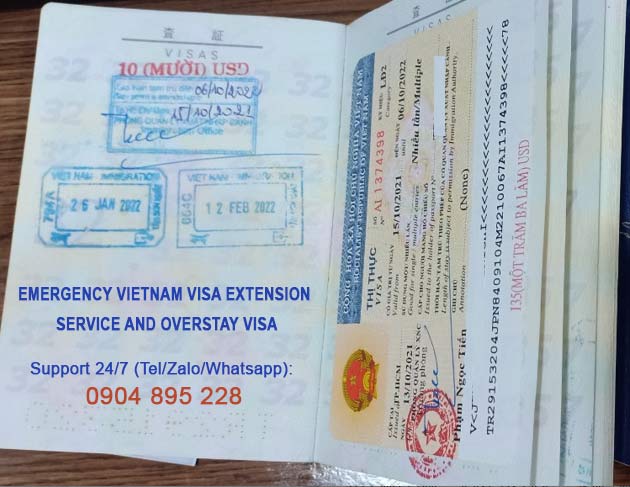 If you overstay your Vietnam visa
According to Vietnam's immigration law, you have to report to the nearest Immigration Department in case of an overdue visa. Depending on the due dates you have to pay an equivalent fine, be deported, or apply for an exit visa. To avoid all the inconveniences, our service is the easiest solution for overdue visas.
We can support you to get out of the blacklist, continue to live in Vietnam or apply for an exit visa.
Read more information about overdue visas here.
Why do you need to extend your visa urgently?
Administrative fines increase every day you overstay, worse you could be deported and banned from re-entering the country.
Increasing penalty fees day by day would affect your financial budget.
Your documents could be blacklisted by the immigration department, which might affect your further visit to the country.
Note: when your visa has been invalidated for 1 day or 2 days, we can extend visa for emergency, not be fined for an overdue visa.
Why should you choose VISANGON?
On-time results: Visa renewal results are announced and delivered to you in a timely manner.
Guarantee: Only pay when you get the results.
Fixed reasonable price: You can count on us for the highest satisfaction at the lowest cost.
Responsibility: We will make sure you get the best results in the shortest time.
Door-to-door delivery.
VISANGON will help you:
Extending your overdue visa within 24 hours.
Minimizing fines due to overdue visas.
Only required a passport.
We shall, on your behalf, complete all formalities for visa extension, submit your application and retrieve the result from the immigration authorities, at the lowest cost.
We are following all the procedures in accordance with all the regulations of the Vietnam immigration department. You may yourself handle or authorize us to handle for the shortest time.
Ensure the legitimacy of the renewed Vietnam visa.
For any consultation for overstay visas, please contact us via the following address for the best advice:
VIETNAM GREENCANAL TRAVEL INC.
Hotline 24/7: 0904 895 228 – 0904 386 229
Tel: 024 3724 5292 – 028 3824 8838
Email: visa@greencanal.com
Head office address: 4th floor, Vinapaco Building, 142 Doi Can, Ba Dinh, Hanoi
Branch office in HCM city: R102 – 168 Vo Thi Sau – Ward Vo Thi Sau. District 3 – Ho Chi Minh City
You can contact us 24/7 for support.