Visa allows foreigners to enter and stay legally in Vietnam. Should foreigners extend their Vietnam visa while holding a Work Permit? In this article, VISANGON shall help you answer that question.
Why should you extend your Vietnam visa?
When a Vietnam visa expires, the foreigners need to extend the visa to keep staying in Vietnam. Due to the quarantine of the covid -19 epidemic, visa overdue has increased.
Overstaying a visa is illegal and considered a violation of Vietnamese law on social order and safety. You will have to pay fines, get blacklisted, and be forced to leave the country. (Read more overstay fines here).
What is a work permit?
A work permit is an approval document issued by the Department of Employment – Ministry of Labour, Invalids and Social Affairs, it allows foreign workers to work legally in Vietnam for 2 years. Work permits contain information and the position of the workers.
Foreign workers have to hold the position stated in the work permit.
Should foreigners extend their Vietnam visa while holding a Work Permit?
A work permit is not a Vietnam visa that allows foreigners to stay for a long duration.
So, If you want to keep staying legally in Vietnam, you must have a Vietnam visa or Temporary Residence Card. The expired visa need to be extended or converted to another type of visa.
Door-to-door delivery and extend Vietnam visa emergency only 24 hours, 1-3 days working day with the lowest fee:
Read here.
Overstay Vietnam visas (weeks, months, years): we specialize in emergencies.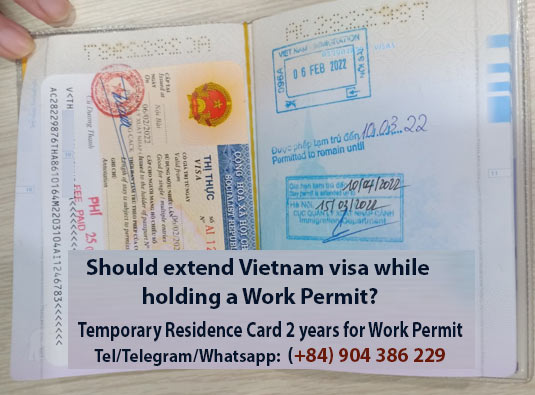 Temporary residence card for 02 years
To avoid the costs and time for visa extension, a 02-years Vietnam Temporary Residence Card (TRC) is a reasonable choice for foreign workers and sponsor companies.
A Vietnam Temporary Residence Card allows you to stay for a long time, open a bank account, enter and exit the country without a visa, buy houses, and sponsor your spouses and children to apply for a Vietnam TRC.
How to apply for a Temporary Residence Card while holding a Work Permit?
Foreigners who have sponsor company in Vietnam need to prepare the following documents:
A valid worker passport.
02 passport photos size 4x6cm.
Work permit valid for at least a year.
Sponsor company documents.
Temporary Residence Card application form NA7.
Submit the documents at:
Hanoi Immigration Department: 44 – 46 Tran Phu, Ba Dinh, Hanoi.
Ho Chi Minh Immigration Department: 333 – 337 Nguyen Trai, Nguyen Cu Trinh Ward, District 1, Ho Chi Minh city.
Processing time:
05-07 working days (excluding submission day, weekend, and holidays). Usually takes longer.
Greencanal Travel visa services
If you have any questions regarding visa problems, like "If the foreigner is holding a work permit, should they extend their visa?", please contact us (24/7) for further advice or information here:
Hotline: +84 917 163 993 – (+84) 982 528 589 (Tel/Zalo/Whatsapp/Telgeram).
Tel: 024 3724 5292 – 028 3824 8838.
Email: visa@greencanal.com.
Head office in Hanoi: 4th floor, 142 Doi Can, Ba Dinh, Hanoi.
Branch office in Ho Chi Minh City: 1st floor, #168, Vo Thi Sau str, Ward Vo Thi Sau, District 3, HCM city.
Greencanal Co.LTD with over 18 years of experience in the immigration field, extension or renewal visa, support applying for a 05-year visa exemption, temporary residence card, quick visa conversion, etc. shall provide detailed information and the utmost professional support.