Answer to question: "Today, I found my visa was overdue more than a day. What happens if I overstay my visa in Vietnam? How much do I have to pay for the fine now?"
An overdue visa is undesirable for everyone. According to Vietnam's legal system, overstaying a visa violates the law on social order and safety. Depending on the number of days of overstaying, there will be certain fines, the worst case for those overstaying a Vietnam visa may be subject to forced deportation and forbidden to enter the country again. Fines rates for overstaying a visa in 2022 have been specified in the Circular of the Ministry of Finance issued No. 25/2021/TT-BTC.
Administrative fines apply to all foreigners above 18 years old, children's guardians may get fined.

In case of overstaying a visa, you can check for penalty rates as follows:
Vietnam visa overstay fines in 2022
Overstaying for 3 days: 500.000VND (~$25);
Overstaying for 10 days: 1.250.000 VND (~55$);
Overstaying for 10 days – 30 days: 4.000.000 VND (~$175);
Overstaying for 30 days – 90 days: 10.000.000 VND (~$440);
Overstaying for a year: 16.000.000 VND (~$700);
Overstaying for over a year: >16.000.000 VND, along with forced exit, restrictions on entry, and prohibited within the specified period.
Notes: Administrative fines can be changeable due to tourists may overstay because of judment enforcement, civil or criminal judgment, etc. Fine rates may vary depending on the case.
Do you have to exit Vietnam after paying overdue visa fines?
Yes, you have to if you overstay more than a day. After serving the penalty for overstaying visas, you will be granted a short-term visa and have to exit VietNam. In case of overstaying for years, you will be deported immediately.
If you are not Blacklisted, you can return to Vietnam after.
Requirements to apply for visa extension, exit visa (for overstayed and expired visas in Vietnam)
Foreigners have been granted a Vietnam visa and currently staying in Vietnam.
Valid passport or travel document.
Valid Vietnam visa of the applicant.
Individuals, and organizations in Vietnam guarantee the applicant.
Foreigners didn't violate the laws, get banned from exiting the country, or were wanted internationally.
For more information about Vietnam visa extension and renewal, read here.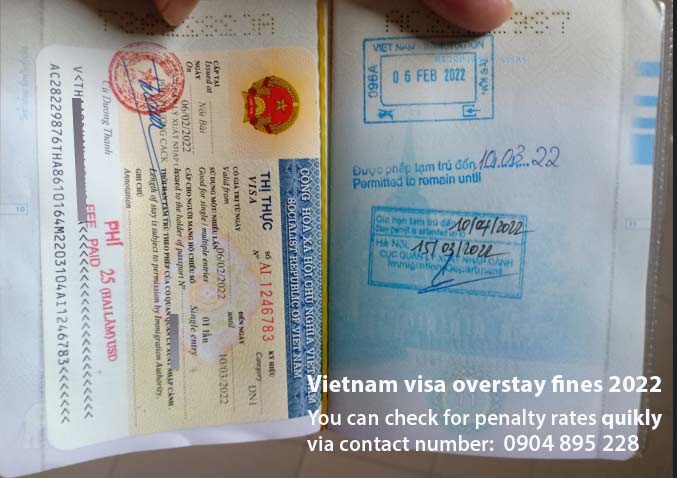 Overstay visa conversion
If you enter Vietnam with a TT visa and have a Vietnamese guarantor, you can convert it into a temporary residence card (TRC), 5 years visa exemption, or other visas after paying the fines.
Requirements for converting to Vietnam TRC
NA5 form.
Valid passport for 6 months.
Documents proving relatives' relation: Marriage certificate, Birth certificate, Household registration, etc.
Residential registration certificate confirmed by local police where you are staying in Vietnam.
Guarantor's ID card (for Vietnamese), foreigners require a temporary residence card, and other identification papers.

Where to pay the fines for overstaying a visa in Vietnam
When noticing an overstay problem, you should go to one of the two following addresses to report:
1. Vietnam Immigration Department in Ha Noi
Address: 44-46 Tran Phu, Ba Dinh, Ha Noi
Tel: 024 3825 7941
Email: contact@immigration.gov.vn
2. Vietnam Immigration Department in Ho Chi Minh city
Address: 333-337 Nguyen Trai, District 1, HCM city
Tel: 028 3920 2300
Attention: You should come early to avoid crowded and don't have to wait for the next working session. After reporting you will get instructions as to paying the fees and applicable penalties.
Consulting for overdue visa
Consulting department for foreigners are ready to support you 24/7 on all the problems relate to overdue visa, required information:
Passport photo.
Entry Vietnam visa.
The latest visa extension stamp.
Consulting department will inform you about Vietnam visa overstay fines rates and instructions handling after receiving information. Should you have any questions (blacklist, fines, visa extension, exit and return to Vietnam immediately,…), please contact:
Hotline 24/7: 0904 895 228 – 0917 163 993
Tel: 024 3724 5292 – 028 3824 8838
Email: visa@greencanal.com
Head Office in Hanoi: 4th floor, Giay Bai Bang Building, 142 Doi Can, Ba Dinh Dist, Hanoi.
Brand Office in HCM city: room 101, 1st floor, 168 Vo Thi Sau, 3 Dist, Ho Chi Minh city.
Now, instead of asking: "What happens if I overstay my visa in Vietnam". Our staff will support you 24/7 with no charge all week (including holidays and Tet, easily with English or Chinese, etc).
We also handle blacklist, deportation, and urgent visa extension. Processing time only takes 1-3 working days. Handling all of your problems quickly, efficiently, and professionally.