In Vietnam, there are 2 types of business visa (DN1 and DN2), and you need to know your purpose entering Vietnam for each type of visa. In this article, we will answer your question "How to get a Vietnam business visa on arrival in 2022?".
For a Vietnam business visa on arrival, the foreigners need a guarantor company in Vietnam to apply for a visa, include the following steps: Prepare the documents, submit the documents to the Immigration Department – Ministry of Public Security, pay the fee, add additional documents (if necessary) and finally receive the results.
The procedure is as follows:
Step 1: Prepare for Vietnam bussiness visa requirements
First, the guarantor company needs to apply for an approval letter and visa.
The Visa approval letter is the official document issued by the Immigration Department. The content of the official letter allows foreigners to enter Vietnam and receive visas at airports and international border gates.
Vietnam business visa can be issued at:
Diplomatic missions of Vietnam abroad.
Visa on arrival office at Noi Bai international airport, Tan Son Nhat, Da Nang, Cat Bi, Phu Quoc.
Visa on arrival office at border gates of Lang Son, Moc Bai, Hai Phong, Vung Tau, etc.
Next, you need you need to complete the requirements as follow.
Requirements checklist:
Official letter requesting approval and examination of foreign personnel on entry (form NA2).

A notarized copy of the business registration certificate, and the operation certificate of the guarantor company or organization.

Sponsorship letter with seal and signature of the organization or company (form NA16).
Work schedule of foreigners at organizations and companies.
Schedule to book round-trip air tickets to Vietnam.
Booking schedule for hotels, motels, and rooms in Vietnam.
An original valid passport.
Letter of introduction for a representative employee to apply for a business visa.
Depending on each case, the procedure may require additional documents. Please contact hotline (Telegram/Whatsaap): +84 0904 895 228, or email to visa@greencanal.com for the newest information and instruction.
Note: Business visas can be converted from other types of Vietnam visas such as travel visas, and visa exemptions (For more information, please contact email: visa@greencanal.com).
Investor visa requirements different with business visa, read here.
Step 2: Submit the documents for the business visa
After prepare the documents, submit at the following addresses:
Immigration Department – Ministry of Public Security in Hanoi:

Tel: 02438257941.
Address: 44-46 Tran Phu, Ba Dinh, Hanoi.

Immigration Department – Ministry of Public Security in HCM city:

Tel: 02839202300.
Address: 333-337, Nguyen Trai, District 1, HCM city.

Immigration Office of the province or city where the headquarter of the company is located.
Step 3: Receive the results
Processing time to get a Vietnam business visa on arrival is: 5-7 working days (from Monday to Friday). Processing time may actually be longer due to the following reasons:
The requirements may require additional documents
Due to the Covid-19 epidemic.
And other objective reasons.
After being approved by Immigration Department – Ministry of Public Security, you will receive a approval letter which contains information about entry international airport and Vietnam business visa. To receive a visa, foreigners need to produce the Visa approval letter and pay the visa fee at:
Vietnam Embassy or Consulate abroad.
Or Vietnam ports of entry (e.g.,Tan Son Nhat international airport, Noi Bai airport, Moc Bai border gate).
Note: In most cases, Vietnam business visa can be obtained at the visa landing office at the entry airport easily.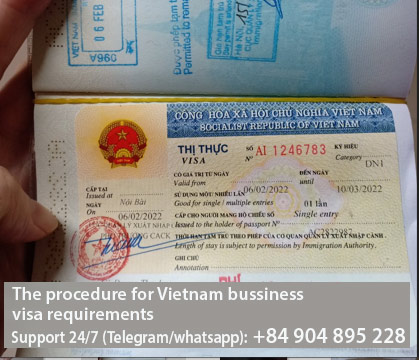 Attentions for Vietnam business visa application
A Vietnam business visa is issued to foreigners working with/for a guarantor company in Vietnam by Vietnam's competent authorities.
According to Law No. 51/2019/QH, there are 2 types of business visas (Visa DN1 and Visa DN2) for foreigners working from 01 to 03 months. The 12-month business visa is only valid for 3 months (except for US citizens).
A business visa does not allow foreigners to work for other businesses (not the guarantor business). Violation will be fined according to the regulations.
Business Visa DN1 and DN2 are 3-month visas with only one entry. Visas will expire as soon as foreigners exit Vietnam.
Business Visa (DN1, DN2) can be extended if you continue to stay in Vietnam or apply for a Vietnam Temporary Residence Card (TRC).
What is DN1 Visa?
DN1 Visa is a visa granted to foreigners who work with businesses, and organizations with legal status (e.g., limited company, joint stock company, branch of a limited company or joint stock company, foreign-invested company, or 100% Vietnamese-owned domestic company).
What is DN2 visa?
Visa DN2 is a visa granted to foreigners who offer services, establish a commercial presence and perform other activities under international treaties to which Vietnam is a member.
Vietnam business visa duration
Valid from 1 – 3 months, maximum 5 years.
You can extend business visa with same duration.
Who can get Vietnam business visa?
Foreign investor.
Head of a representative office of Non-governmental organizations (NGOs).
Foreign workers with work permits.
A lawyer with a practicing certificate from the Ministry of Justice of Vietnam.
How to get Vietnam business visa easily
VISANGON – professional Vietnam business visa on arrival service for foreigners. We support 24/7 and answering all of your visa-related questions. Contact us:
Hotline 24/7(telegram/whatsapp): 0904 895 228 – 0917 163 993
Tel: 024 3724 5292 – 028 3824 8838
Email: visa@greencanal.com
Our offices in Hanoi and HCM city provide business visa, Vietnam visa on arrival services, 1 – 3 days to get. Supporting full package service of approval letter application, investor visa, visa extension, Temporary Residence Card, etc. with shortest time and reasonable prices.
Support to issue VAT invoices.
Results are announced and delivered to you promptly.
Shorten processing time on request.
Support 24/7 without charge, including holidays and Tet.